Dr Neeraj Singh is a Board- Certified Colon and Rectal surgeon and a Proctologist in Scottsdale location in Arizona. He is a Top Docs in Phoenix magazine for last 10 consecutive years and chosen by his peers.
Dr. Neeraj Singh, MD is a colorectal surgery specialist in Glendale, AZ. He did his medical school from Government Medical College, Amritsar, India. Subsequently, he then completed a 3 year Orthopedic Surgery residency in India. He moved to United states and pursued his General Surgery residency for 6 years and then finished his Colorectal Surgery Fellowship. He currently practices at Colon and Rectal Care Center of Phoenix and are affiliated with HonorHealth Deer Valley Medical center, HonorHealth Thompson peak medical center, Abrazo Arrowhead hospital, HonorHealth John C. Lincoln Medical Center, Abrazo Scottsdale Campus. Dr. Singh accepts multiple insurance plans.
He is the current Chief of Robotic Surgery at the HonorHealth Network hospitals. Till now he has performed about 600 Robotic Colorectal Surgeries over last few years and thousands of other laparoscopic, endoscopic and anorectal procedures successfully. He routinely performs Screening and Diagnostic Colonoscopy for all kind of conditions and also treats all those different conditions. However, he is also involved in the care of all colorectal conditions including removal of Colon and Rectal polyps, Colorectal cancers, diverticulitis, hemorrhoids, anal fissures, anal fistulas, anal rectal abscesses, rectal prolapse, anal itching, Inflammatory bowel disease conditions like Crohn's disease and Ulcerative colitis, anal and rectal infections like warts HPV, STD's, and other colorectal conditions.
Dr Singh is a Sikh from religious aspect. Sikh ethics emphasize the congruence between spiritual development and everyday moral conduct. Its founder Nanak summarized this perspective as: "Truth is the highest virtue, but higher still is truthful living.
Route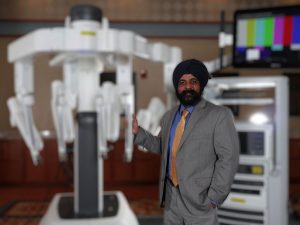 Dr. Neeraj Singh, MD, Colorectal Surgery Specialist – Glendale, AZ | Sharecare